Blank December 2019 Calendar
The month of December is the 12th month of the Gregorian and Julian calendar. It came from the Latin term Decem that means ten. This month is originally the 10th month in the Roman calendar. One of the notable seasons in this month is the Christmas season. You can enjoy the holiday and experience a great time.
You can use the December 2019 Calendar and track your daily activities. The calendar suits home or office use so you can track your schedule. There's an easy way to track the important dates such as birthdays and anniversaries. You can optimize the calendar in the best possible way. It suits the standards you like.
The December calendar has formats that you can use. All can be sure to keep track of the daily schedule he or she has to do. People are free to download it and enjoy its benefits. Students can track the daily schedule and activities they aim to do. The calendar is perfect for daily use, so you have a guarantee of success.
Come now and download the december 2019 printable calendar today! Come now and experience the comfort of using this calendar. For sure, you would love to use it at home or in the office.
Printable Calendar December 2019 Blank
December is the last month of this year and there are some important days in this month. December is the official beginning month of the winter season. You should have already finished your preparations for the winter season and pick your winter clothes from your wardrobe. It is important for both individuals and organizations such as schools, companies, agents etc. Generally organizations plan their next year ideas and check the last year for what they have done. In according to these duties, organizations prepare their last year report and this preparation needs planning. You can easily organize your plans on our website efficiently. All you have to do is just write them on your december printable calendar and in case if you want or need, you can print it easily.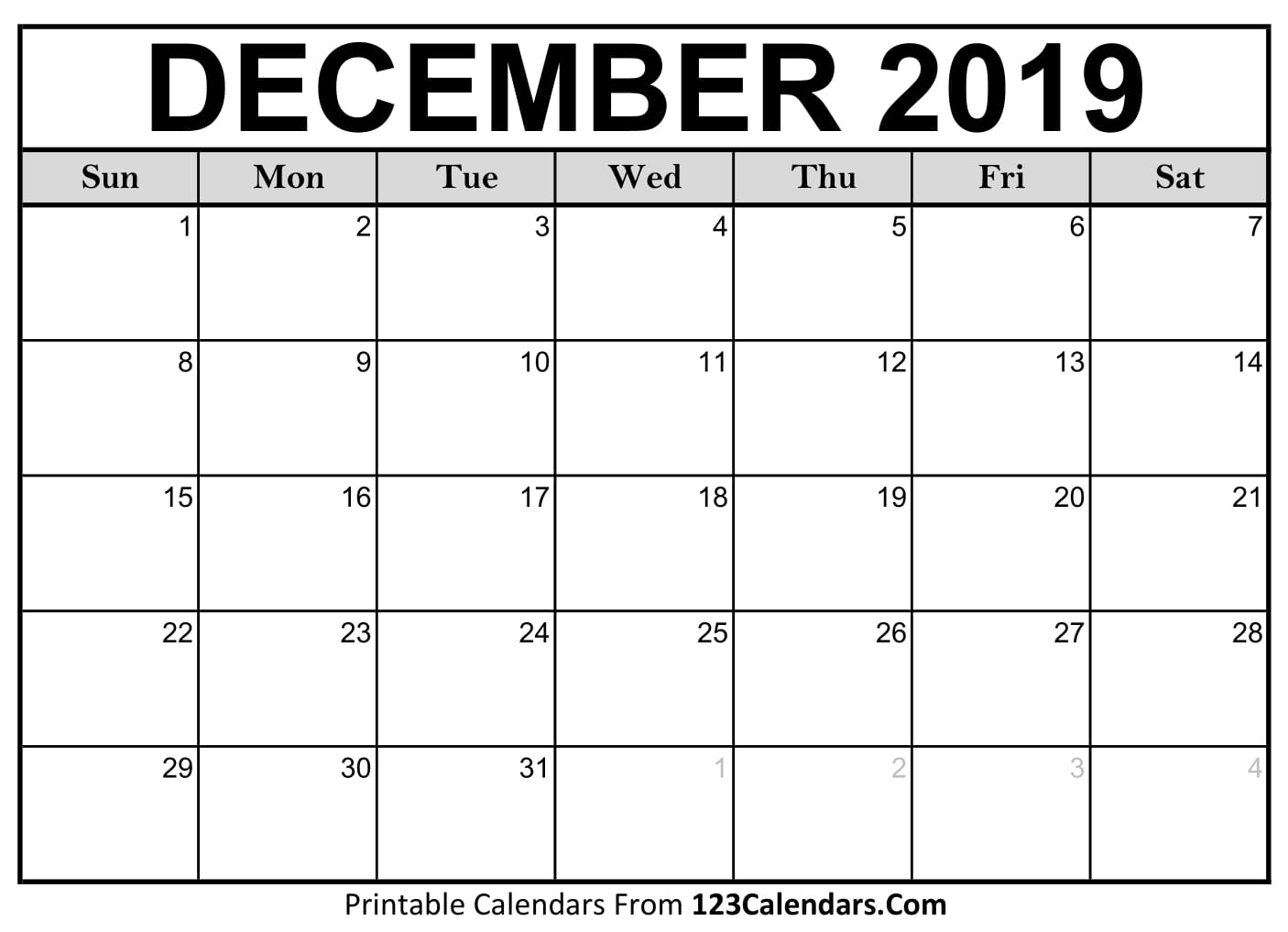 ---
Free 2019 Monthly Calendars
What holidays are in December?
Christmas Day – December 25
Christmas Day is the official holiday and celebrated by christians from all over the world. In 2019, it is going to be celebrated on Wednesday, December 25. It is a day to commemorate for birth of Jesus Christ. It is celebrated by billion of people and it is a both religious and cultural celebration. Christmas Day is a public holiday in many countries and it is a federal holiday in United States as well which means it is a non-working day. On Christmas Day, people gives gift each other and decorate their homes with the christmas decorations. Some people decorate a tree in their houses and put their gifts under this tree before the Christmas Day. On Christmas morning, everyone in the house open their gifts and thanks to each other for the gifts.
It actually doesn't matter for you if you are an organization or an individual. Everyone who is christian and believe in Jesus Christ, should definitely mark this day on calendar. It might be the most important day of the year and it can not be forgetted. It would have very bad results for you to forget this day. You can see streets decorated, singing people for christmas, celebrations across the country and to not get surprised if you are not familiar with these celebrations, you should know it. You can easily add this day on your calendar from our website and you can print it easily.
What are the special days in December?
| Date | Holiday | Day | Days to go |
| --- | --- | --- | --- |
| December 2 | Cyber Monday | Monday | - |
| December 7 | Pearl Harbor Remembrance Day | Saturday | - |
| December 25 | Christmas Day | Wednesday | 10 |
| December 31 | New Year's Eve | Tuesday | 16 |
Cyber Monday – December 2
It is actually a marketing term and it is the first Monday after the Thanksgiving Day. Sometimes it is celebrated on November but in some cases, it is celebrated in December. This year is one of these years and you definitely should mark this day on your calendar. This day is going to be celebrated on December 2 this year and it is a day to get people interests on online shopping. In 2005 shop.org website released this day as "Cyber Monday" and named "One Of The Greatest Online Shopping Days of the Year". In case if you do not want to forget this day, you should better write it on your calendar. Because online shopping is the new trend of shopping and everyone likes online shopping cause of the simplicity.
Pearl Harbor Rememberance Day – December 7
It is a day to honor 2403 citizens who were killed in the Japanese surprise attack on Pearl Harbor in Hawaii on December 7, 1941. It is a national day in United States but it is not a federal holiday. On December 7, every year people puts flowers on this harbor and honor the souls of people who were killed. You can observe these commemorations across the country and to prepare yourself for these commemorations, you can write it on your calendar.
New Year's Eve – December 31
As we all know, it is the last day of the year and it is a celebration day for new year all over the world. Some countries celebrate this day earlier because of their location on earth but everyone likes this day. In Gregorian Calendar, December 31 is the last day of the year and the beginning of the new year. Wherever you go on earth, you can easily observe these celebrations. You can see the decorations on streets, people talk about the last year or how excited they are about the new year. Also people give presents each other on this day and celebrate their next year.
Obviously, this day can not be forgetable but you should mark this day on your calendar to be sure about that. You should also the days before December 31 if you are planning to go shopping to celebrate New Years' Eve in your home with your friends or with your family. If you click on the Add Holidays button, you also can add this day on your calendar without using keyboard.
History of the December
Like September, October and November, month Decembers' placement on calendar was different but after the month January and February added on calendar by Roman Empire, December became 11th and the last month of the year. It also gets its' name from Latin word "decem" which means tenth.
---