Get Ready for 2024: Your Ultimate Guide to the Year with a Printable Calendar
As we bid farewell to 2023 and welcome the new year, 2024, we can expect to see a continuation of some trends from the previous year, as well as some new developments. As we move further into the future, it's always good to plan ahead.
A printable
2024 calendar
can help you stay organized and prepared for the year ahead. In this post, we'll take a closer look at what you can expect in
2024
, important dates and events, and how to optimize your year with effective planning.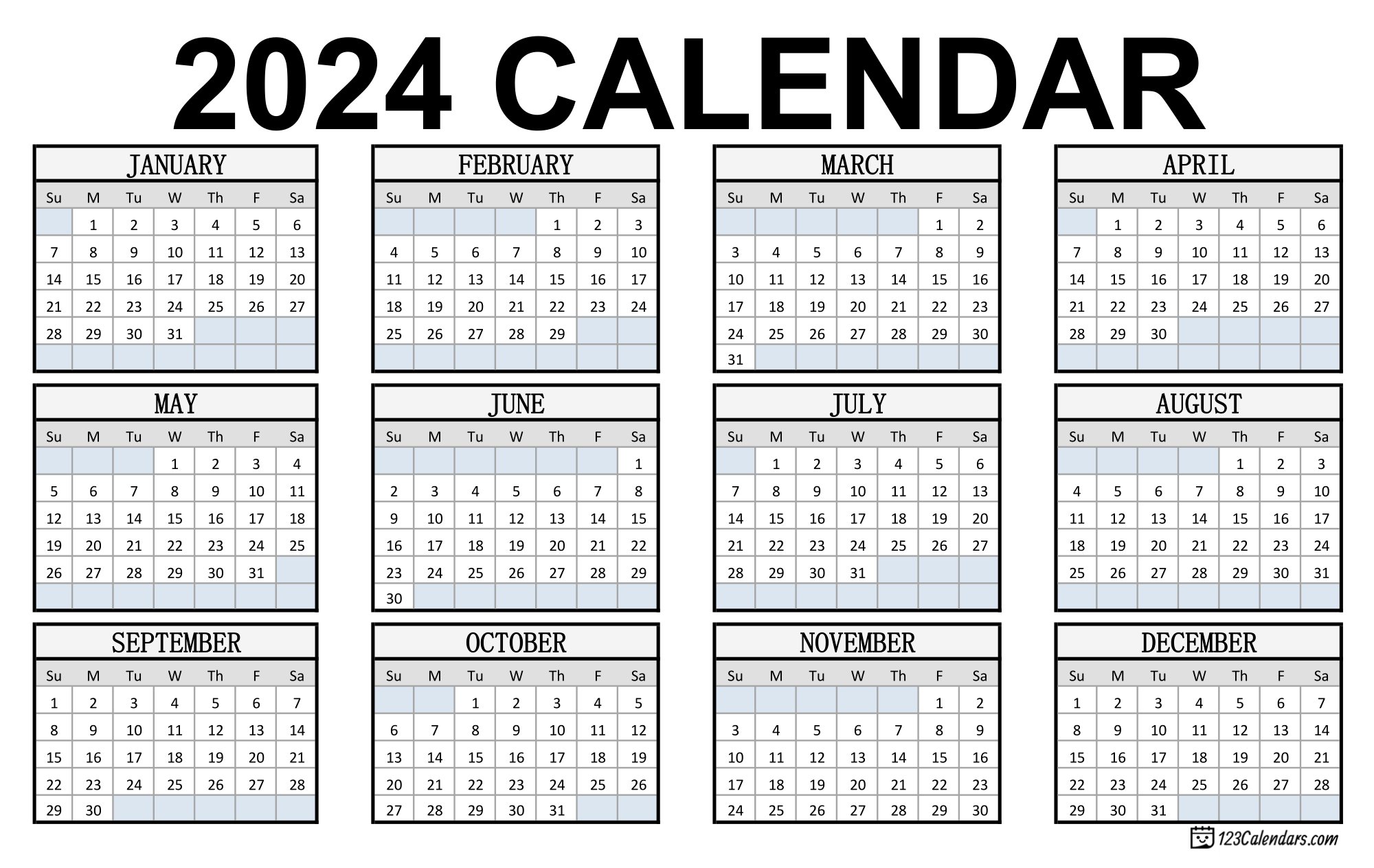 ---
2024 Calendar: What to Expect
The year 2024 is a leap year, which means it will have 366 days instead of the usual 365 days. It's also an election year in the United States, with the Presidential election set to take place in November. Other notable events in calendar 2024 include:
The Summer Olympics in Paris, France
The total solar eclipse on April 8, visible from parts of North America and Europe
The next transit of Venus, which won't occur again until 2117
The launch of the James Webb Space Telescope, which will be the largest and most powerful space telescope ever launched
With so much happening in 2024, it's important to have a clear overview of the year so you can plan your schedule accordingly.
How to Make the Most of 2024 with a Printable Calendar
One of the best ways to get organized and prepared for the year ahead is to use a printable 2024 calendar. You can download and print a calendar for free online, or purchase a printed version from a retailer. Once you have your calendar, follow these
Identify your priorities: Take some time to think about your goals and priorities for the year. This will help you schedule your time more effectively and ensure that you're focusing on what matters most.
Use color-coding: To make your calendar easier to read and navigate, use different colors to represent different types of activities or events. For example, you could use green for work-related events, blue for personal events, and red for important deadlines.
Be flexible: Remember that your schedule may change throughout the year, so it's important to build in some flexibility. Leave some open space in your calendar for unexpected events or opportunities.
Schedule downtime: It's important to take breaks and recharge throughout the year. Make sure to schedule some downtime on your calendar, whether it's a vacation, a weekend getaway, or just some quiet time at home.
Months of the 2024 Calendar
The 2024 calendar has twelve months, just like any other year. Here is a list of the months and the number of days in each month:
January (31 days)
February (29 days)
March (31 days)
April (30 days)
May (31 days)
June (30 days)
July (31 days)
August (31 days)
September (30 days)
October (31 days)
November (30 days)
December (31 days)
Holidays and Observances
The 2024 calendar has many holidays and observances. Here are some of the most significant ones:
New Year's Day is a global holiday that marks the beginning of the new year. It is a time for new beginnings and fresh starts.
Valentine's Day - February 14, 2024
Valentine's Day is a day to celebrate love and affection between intimate companions. People often exchange gifts and cards on this day.
International Women's Day - March 8, 2024
International Women's Day is a day to celebrate the social, economic, cultural, and political achievements of women. It is also a day to raise awareness about gender inequality.
Easter Sunday - April 21, 2024
Easter Sunday is a Christian holiday that celebrates the resurrection of Jesus Christ from the dead. It is a day of joy and celebration for Christians all over the world.
Mother's Day - May 12, 2024
Mother's Day is a day to honor and appreciate mothers and motherly figures. It is a time to show gratitude for the sacrifices and contributions of mothers in our lives.
Father's Day - June 16, 2024
Father's Day is a day to celebrate fathers and fatherly figures. It is a time to show appreciation for their love, guidance, and support.
Independence Day - July 4, 2024
Independence Day is a national holiday in the United States that commemorates the adoption of the Declaration of Independence on July 4, 1776. It is a day to celebrate freedom, democracy, and patriotism.
Labor Day - September 2, 2024
Labor Day is a national holiday in the United States that honors the contributions of workers. It is a day to recognize their hard work and dedication to the economy and society.
Halloween - October 31, 2024
Halloween is a holiday that is celebrated in many countries around the world. It is a day to dress up in costumes, carve pumpkins, and participate in other festive activities.
Thanksgiving Day - November 28, 2024
Thanksgiving Day is a national holiday in the United States that is celebrated on the fourth Thursday of November. It is a day to give thanks for the blessings in our lives and to spend time with family and friends.
Frequently Asked Questions
Question: Can I use a digital calendar instead of a printable one?
Answer: Absolutely! A digital calendar can be just as effective as a printed one, especially if you prefer to keep all of your scheduling and planning in one place. The print settings are adjustable to suit landscape or portrait in several sizes so you can perfect the calendar for your purposes.
Question: Are there any other major events happening in 2024?
Answer: Yes, there are many other events happening in 2024, including the Winter Youth Olympics, the World Meteorological Congress, and the European Football Championship.
Question: Can I customize my printable calendar?
Answer: Yes, many online sources offer customizable printable calendars that allow you to add your own events, birthdays, and other important dates.
Question: When is the first day of spring in 2024?
Answer: The first day of spring in 2024 is March 19 (Tuesday).
Question: When is Daylight Saving Time in 2024?
Answer: Daylight Saving Time begins on March 10, 2024 (Sunday) and ends on November 3, 2024 (Sunday).
Conclusion
The year 2024 is shaping up to be an exciting and eventful year with important dates and events to look forward to. With the help of a printable calendar and effective planning strategies, you can optimize your time, stay organized, and achieve your goals.
Remember to identify your priorities, use color-coding, build in flexibility, and schedule downtime to recharge throughout the year. And don't forget to stay informed about important dates and events happening around the world.
By following these tips, you'll be well-equipped to make the most of 2024 and handle any unexpected challenges that come your way. So start planning now and get ready for a year filled with growth, learning, and achievement!