Monthly Planner Templates
Having a busy life is challenging, especially in dealing with time. How you manage your time wisely means a lot. Time management also means having quality time for your friends, acquaintances, and loved ones, no matter how busy you are with all your concerns in life.
Planning ahead of time will make your work more convenient. Be organized in your schedule for you to be able to meet your targets and goals. There are some people who are fond of using pens and notebooks for listing down their schedules for the month. However, to make it more convenient, why don't you use printable monthly calendars for making your plans or schedules ahead of time?
If you are looking for a free printable monthly planner template, then there are lots of them to be found on different online sites. You will surely be satisfied when you start using these monthly planners.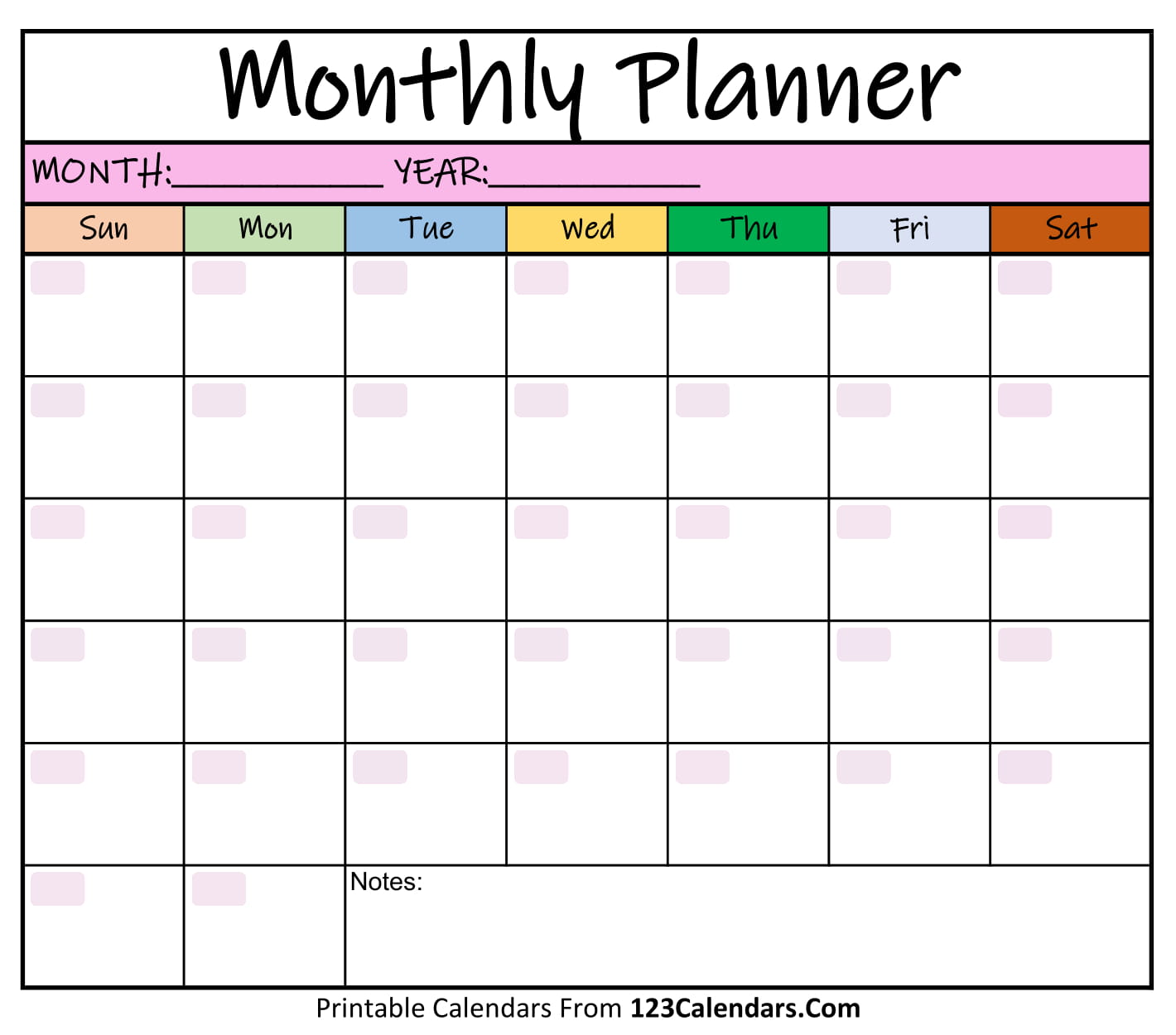 ---
Choosing a Monthly Planner Template for Your Schedules
A monthly planner will help you a lot in getting your goals and targets. Try to explore the templates and have fun using them. Before you start working on it, here are some great ideas for choosing your monthly planner template. You may want to consider these things:
Template
You can choose to download your favorite template, which is flexible and easy to use. You can choose a one-page monthly planner if you have fewer appointments for the month. If you want a simple one, then a single color template will do.
Design
There are beautiful designs that are spacious, stylish, and can be customized. Pick up your desired design and start editing it. You can think of your own theme in designing your printable monthly planner. It would be advisable to choose also your cover style.
Space
Consider the space for your design and task - how much space you need in writing your schedule. If you have a lesser task, you can add stickers, photos, emojis, and other stylish designs.
Planning Elements
Monthly planner is more than just a planner. You are free to add other planning elements to it. You can put your monthly insights, goals, and specific tasks for you to remember all of these things. In adding task section, you can come to think of meals for the whole month, vacation days, assignments, and the likes. Be specific in jotting down your notes in the monthly planner. For sure, you can be productive every day because of your monthly planner. In planning, you have to write things down. List all your plans and be sure that you do not forget something. Record all your activities for the month. You can use color coding for your convenience. Learn how to prioritize things. First things first, as they say. Your plan must be flexible in dealing with changes. Your dedication to following your monthly planner will be tested here.
Format
Decide on the format to be used in your planner. You can customize a printable monthly planner in any Microsoft Office file. If you prefer using the Word, then that would be okay. MS Publisher can also be a good choice. There are already ready-made templates available there for you. Creating a planner in MS Excel is also a good idea. Here, you can create an automatic planner where you are just going to fill in the data that you need.
After having a monthly planner, how can you be so sure that it is effective? Do you follow it seriously, or is it just there to remind you of your task, yet not doing it properly? Here are some ways on how to check the effectiveness of your monthly planner:
A regular daily planning session is a good start to see if you follow your task every day.
Aside from the daily planning session, you can also do it every week. This is suggested in order to keep track of your activities.
Use a single planner for all your schedules to avoid confusion. Remember to keep everything in just one planner. Even using one planner may mean success. It just depends on how you stick to your plan.
Properly check your planner if your task or reminder was already done.
Select a small size, monthly planner. It should be handy and easy to carry wherever you go.
Never get stress in following everything in your planner. Take note that it is only a plan. It can change depending on the situation. Just be flexible and ready to deal with these changes.
In planning for the next month, try to review your goals from the previous months. This is done to give way for any adjustments if there are. Other fewer priority activities not included for this month can be added for the next month. Bear in mind that reflection is a good way to get things done and perform better next time in using a monthly planner. This is where you can improve yourself as a person. It is an opportunity to develop yourself and also inspire others in using a planner. Review especially your priorities. Not all urgent concern for others is also your top priority. Your priority does not always like others. Just deal with your own priorities without affecting other people's lives.
Learn how to balance things in your planner. Which activity or activities should stay? What are the next steps? And be sure to finish the plan with satisfaction and having a strong personality as you deal with all your tasks, goals, and targets.
Remember, it is free! You need not pay any penny. Grab it now and start using your personalized monthly planner. When you plan, live with it because it is an opportunity for you to be disciplined and be conscious of time management. However, this is just a piece of advice. Although you have lots of things to be done and your schedule is fully booked, still, find time for yourself. It is still better if you are always healthy as you do your tasks. Just enjoy the process of using your monthly planner.