2023 Calendar Templates
Free Printable 2023 Calendars - Get Ready for the Year Ahead!
It is never too early to prepare for the future, and 2022 is already well underway. Luckily, we have a convenient printable 2023 calendar on our site free of charge! Getting ready for what next year has in store is the best way to get an excellent head start, and there is no better way to do it than with a clear, well-planned annual calendar.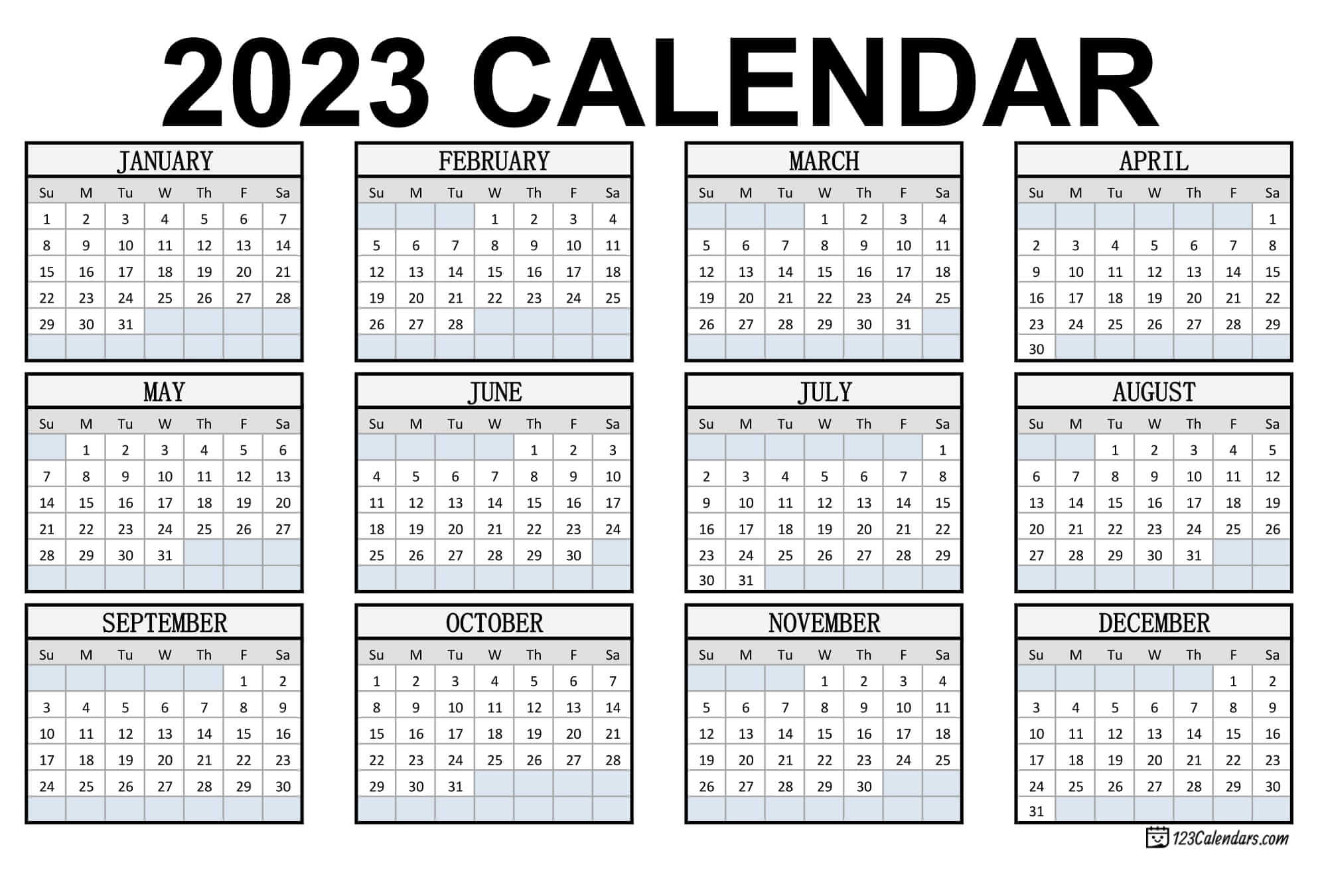 ---
Our Calendars
The fastest and easiest way to get your 2023 calendar is with us! Print in color or black and white and choose from several styles and layouts.
Plain Monthly Calendar
Do you like to keep things simple? You should choose one of our blank printable 2023 calendars. Every date is clear and ready to be filled with exciting plans, notable dates, and can't-miss reminders for the upcoming year.
The past two years have been fraught with trying times, and many important dates were missed between loved ones. As the world regains its freedom, the time to catch up with the ones that matter the most is coming, and your calendar 2023 can be packed full of special times. Choosing a plain design leaves every day clear for opportunities.
Monthly Calendar with American Holidays
Alternatively, opt for a design with those can't-miss special dates and public holidays. Our printable 2023 calendar with pre-filled holidays follows the US plan and includes a full table of every date you need to know.
Having these days already marked for you makes pre-planning events and schedules easier to ensure they don't collide with national holidays. It also means a head-start when planning what to do with those precious extra days off from work and school!
Why Choose a Printable Calendar?
Why Choose a Printable Calendar?
Choose the size, style, and color that suits you best.
Print more than one! If you run a business or manage a team, providing them with a 2023 calendar can optimize productivity and cohesive working.
Get organized for 2023 with plenty of time to spare, rather than rushing around at the last minute and missing out on those precious life moments.
How to Get a 2023 Calendar
Accessing our free printable 2023 calendars could not be any easier. All you need to do is choose your design and press download. Yep- that's it! Once you download the file, you can save it to your device until you connect with a printer.
The print settings are adjustable to suit landscape or portrait in several sizes so you can perfect the calendar for your purposes.
Detailed info for calendar, please refer to Wikipedia.
Roll On the New Year!
New Year's resolutions are rarely successful- probably because they are often made on a whim in the heat of the moment. With a printable 2023 calendar, you and your plans are far more likely to succeed in the long run.
Time is of the essence, and that has never been clearer. After years of canceled plans and missed moments, 2023 is the time to reconnect, live boldly, and take life back into your own hands!
USA Federal and State Holidays in 2023
Below is a list of some of the most common holidays for 2023. Including the weekday they land on and how many days until the day.
| Date | Day | Holiday |
| --- | --- | --- |
| January 1, 2023 | Sunday | New Year's Day |
| January 2, 2023 | Monday | New Years Day (observed) |
| January 16, 2023 | Monday | Martin Luther King Day |
| February 20, 2023 | Monday | Presidents Day |
| May 29, 2023 | Monday | Memorial Day |
| June 19, 2023 | Monday | Juneteenth 2023 |
| July 4, 2023 | Tuesday | Independence Day |
| September 4, 2023 | Monday | Labor Day |
| October 9, 2023 | Monday | Columbus Day |
| November 11, 2023 | Saturday | Veterans Day |
| November 23, 2023 | Thursday | Thanksgiving |
| December 25, 2023 | Monday | Christmas Day |