Blank June 2020 Calendar
Juno was named after the Roman Goddess Juno. So, it's ideal to get married in this month. It's believed that Juno brings prosperity to a couple. 2020 Holidays and special events are also present in this month. Thus, it's better to have a printable June 2020 calendar. You can organize the June 2020 Calendar according to your needs.
You have an assurance to track the important days in your life. You check your schedule daily. The printable calendar has two formats – the image and PDF format. Everyone is free to download it and take advantage of using the calendar daily. People can mark special events on the calendar such as weddings and anniversaries.
You can customize June 2020 calendar it and be sure to feel the comfort of using it daily. The calendar also serves as a guide to prepare for upcoming occasions. Don't worry because you can plan effectively for the great events that you wait to happen.
You can choose from the colors and sizes of the blank calendar. Anyone would find the calendar useful in everyday use. For sure, you would love to use it with your family. You can download the June 2020 Calendar today! Come now and satisfaction would be yours! The June calendar is yours to keep.
Printable June 2020 Blank Calendar
We prepared the June Printable Calendar for you and you can customize it on this page whenever you want. As you know the hot weathers came and the holiday or vacation season has begun. This month is very important to plan your ideas and your wishes when you consider the big summer holiday. June is the first month of the summer as you know and it is time to plan your vacations or trips on this summer. May be you were looking for travel agents since May. May be you already planned your travel but it is the best month to do the preparations for your travel. You can easily do your plans on our printable calendars and print it quickly. All you ought to do is press print button and it is ready to print.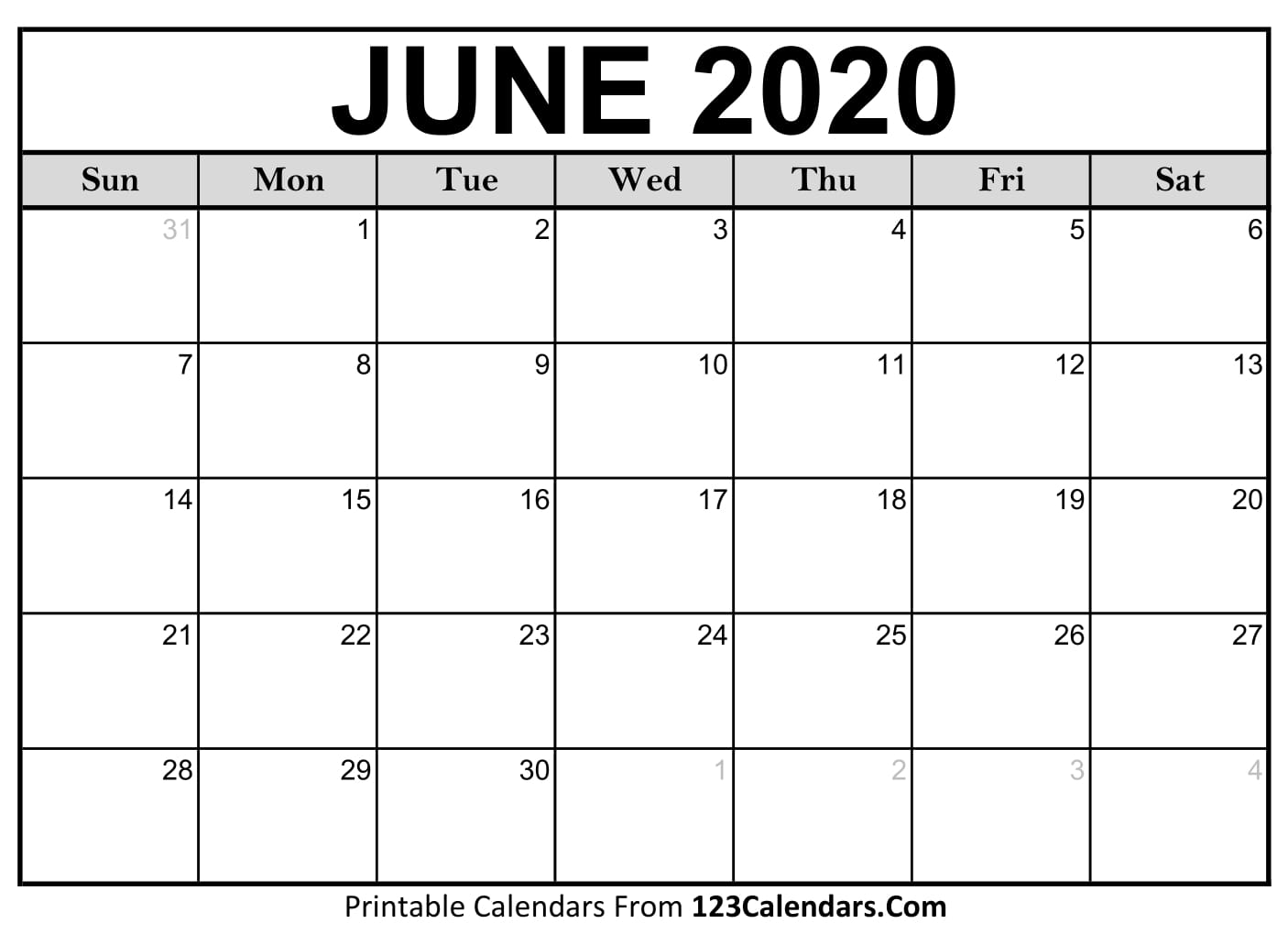 ---
Free 2020 Monthly Calendars
Is there a holiday in June USA?
The Flag Day will celebrate on June 14 in this year since 1916 which announced by President Woodrow Wilson. This day will be holiday in USA and people would like to celebrate this day happily. Everyone hang up their flags across the country and you better not forget to. In calendar you can note that on June 14 or you just simply click the Holidays button over the calendar.
When are the Holidays in JUNE 2020?
As mentioned above, the National Flag Day will be celebrated by USA citizens on June 14. It memorializes the adoption of the flag of the USA on June 14, 1777 by resolution of the Second Continental Congress. It is not a federal holiday but in USA people would love to celebrate this day to symbolize the unite under a flag all together against British Colonists. Also the D-Day is on June 6 which means the Normandia Landings on World War II. In United States, the D-Day also memorializes by citizens. So if you are a person who would like to remember them or interested about these days, you can write or note these days on your calendar.
What are the Special Days in JUNE 2020?
| Date | Holiday | Day | Days to go |
| --- | --- | --- | --- |
| June 1 | Pentecost Monday 2020 | Monday | 102 |
| June 14 | Flag Day 2020 | Sunday | 115 |
| June 21 | Father's Day 2020 | Sunday | 122 |
D-Day – June 6
The D-Day also known as Normandia Landings happened in June 6, 1944. The codename of the Normandia Landings was Operation Neptune and often referred to D-Day. On this day, many soldiers passed away and some of them survived. This bloody military landing was one of the biggest memorial side of the World War II.
In America, people wants to memorialize this day to show their respect to soldiers who passed away or survived. Because that was the most heartbreaking war front of the World War II.
Flag Day – June 14
Flag Day symbolizes the uniting the American people under a Flag against the British Colonists and it is celebrated on June 14 every year. In this day you might see crowded groups who celebrate the Flag Day on streets, schools. Government celebrates this day also but Flag Day it is not a federal holiday. So if you are a business person or an employee, you better note this day on your calendar because the roads might be closed due to celebrations.
Fathers Day – June 16
We all love our fathers or respect to them what they did for us. The Fathers' Day is alike Mothers' Day and it is an important date almost for everyone. It is a celebration to honor fathers and celebrating fatherhood. In Spain, Portugal and Latin America this day celebrated on March 19 cause of the Catholic Europe. But in United States, most part of the Europe and on other countries worldwide, this day is celebrated on the 3rd Sunday of the June. So in case if you forget the exact date of Fathers' Day, you can remember the date with that information.
On our website, you can easily add this holiday on your calendar by using the Holidays tab or you can just write it on June 16 and you can print it easily. It is important to remember celebrate your fathers day and if you would like to buy a present for him.
American Eagle Day – June 20
As we all know, the symbolic animal of the United States of America is eagle. USA decides this animal to celebrate because of its physical conditions, observe the American values.
American Eagle Day is not an official holiday but many people from USA celebrates this day like a holiday and wants it to be an official holiday. Just like a flag day, you can observe some crowded groups who celebrates this day in streets. So you should notice that day on your calendar to not get surprised if you lock yourself in traffic jam.
History of Month June
June was named after the Roman goddess Juno, who was the wife of Jupiter, and the Latin language. Although June was originally 29 days, Julius Caesar declared June as 30 days and we have been using it since then.
---