Blank October 2020 Calendar
It's ideal to travel in October due to the warm season it offers. You can travel out of the country and have fun. You can also await the holidays and autumn events this month. Therefore, it would be best to have an October 2020 Calendar for you not to miss these holidays. It serves as your guide to take note of the important events in your life.
You can have a chance to organize your tasks in the right manner. The calendar lets you track the upcoming events that you shouldn't miss. People would find the calendar handy as it gives you easy access of holidays. Feel free to experience a hassle-free life of by using the October calendar.
You can select from the best blank calendar templates. These make your task planning effective and a success. The October 2020 Calendar is one of the best calendars you would need this year. The image and PDF formats of the calendars are perfect for home or office.
You can download the calendar for free. All have a chance to customize the calendar according to his or her needs. So, are you ready to use the October calendar today? Download it now!
Printable October 2020 Blank Calendar
October is the 10th month of the year and it is the middle month of the fall/autumn season. You can see the leaves of trees change their colors from green to yellow. This month comes with the cold weathers as well and on this month you better forget the summer weather as well. You can pick out your winter clothes from your wardrobe and prepare yourself for winter season. As we all know, winter season passes tough and you better organize your daily activities from this month and if you are curious where to begin, you definitely should start planning your plans on a calendar by taking notes, writing your tasks and adding holidays on calendar.
Our website provides this service to you for nothing. We do it like a favour for you to keep your plans organized. If you are a first time user, you should know that you also can print the calendar from your printer with just two mouse clicks. There are many important events on October as well. You can easily reach these articles and paragraphs by using the Table Of Content. All you should do is click on the title you wonder and there you go!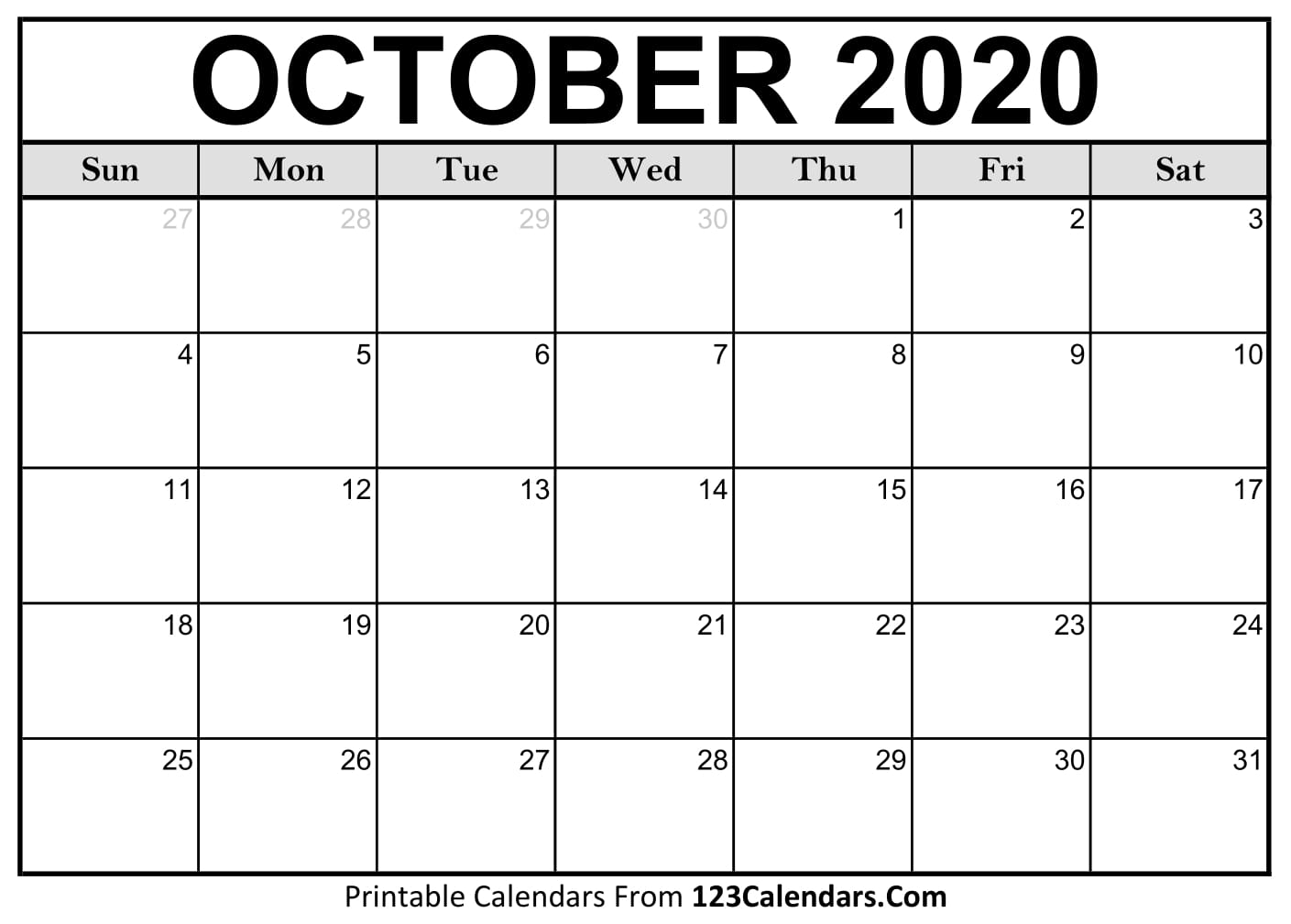 ---
Free 2020 Monthly Calendars
What are the special days in October?
| Date | Holiday | Day | Days to go |
| --- | --- | --- | --- |
| October 12 | Columbus Day 2020 | Monday | 234 |
| October 16 | Boss's Day 2020 | Friday | 238 |
| October 17 | Sweetest Day 2020 | Saturday | 239 |
| October 31 | Halloween 2020 | Saturday | 253 |
October is actually pretty intense month of the year. First, it is the middle month of the fall season and reporter of the coming winter. There are so many important days in this month for example Child Health Day, Navy Birthday, Columbus Day, Boss's Day and most importantly Halloween. All of these days should be on your calendar and been notted to not forget. Of course you may not be interested about all of them but every person has unique community and it is a beneficial reminder to write them on your calendar.
Boss's Day – October 16
This day is founded by Patricia Bays Haroski in 1958 for her father and she registered this day on her fathers' birthday which is October 16. This day is celebrated by employees for their bosses because of their kindness and their fairness to thanks them. If you are working in a company and you believe your bosses' fairness and kindness, you might organize a simple party in your organization to thank for your boss.
Columbus Day – October 14
This day is the celebration about arrival of the Christopher Columbus's in the Americas on October 12, 1492 but in United States of America it is celebrated on October 14 on 2020. It is celebrated by people across the America continent by every country (United States of America, Canada, Mexico, Argentina, Brazil, Paraguay, Uruguay, Peru etc.). Christopher Columbus was an Italian Explorer and his aim was to explore new areas across the world. He set sail from the Europe and traveled many days to find continent America or the new world as he calls. The exploration took approximately three months.
Columbus Day has very different names on South America. Some Latin American countries call this day as Dia de la Raza which means "Day of the Race". Many of the American countries from both South and North America has a federal holiday on this day.
On your printable calendar, you can easily add this day by clicking the Add Holidays button. On this day you are definitely going to see celebrations on streets and in city center. If you are a business person or a person who drives in the city, you should not forget the traffic jam because of the celebrations. Because citizens would like to celebrate this day with drinking beverages, drinks and alcohol.
When is the Halloween?
Halloween is a celebration and can be seen in different countries at the end of October or October 31 to celebrate the eve of the Western Christian feast of All Hallow's Day. Halloween comes from traditions of Celtic Harvest Festivals as believed by many people. But in this day, people celebrate it with very different traditions such as trick or treating, costume parties, emptying pumpkins and put light in them and locate them on their yard or garden of their houses.
The reason we are mentioning about this day is on purpose of to remind you this day. On our website, you can easily customize your calendar and organize your plans on calendar about Halloween. You might need to organize a shopping with your friends to buy some costumes for parties, organize a party or to attend a party. In many countries, it is celebrated very hugely and on this day you are definitely see some horror costumes. To not get surprised, all you should do is add this day on your calendar and remind yourself these celebrations.
History of Month October
On Roman Calendar, October is originally the eighth month of the year but after when January and February added to the Roman Calendar, October became the 10th month of the year. Its' name is coming from the Latin Language. "Octo" means eight in Latin in case if you woner.
---