Blank July 2020 Calendar
July came from Julius Caesar, a famous Roman General. It's the 7th month on the Julian and Gregorian calendars. Also, it's the coldest month in the Southern Hemisphere. Independence Day is celebrated in July. You can take note of this holiday and more using a July 2020 Calendar. The calendar offers you a great way to organize your schedules and tasks.
The printable calendar is ideal for homeowners and office people. They can keep track of the important events in this month. Homeowners can finish their daily tasks on time by using the July calendar. They can also plan upcoming tasks that the family needs. For offices, the printable calendar is a great way to check for upcoming schedules and more.
The July calendar gives you a great way to make your life easy. You can download it for free. It's easy, right? You can choose from the PDF format or image. Users can find the July 2020 Calendar due to the fast and reliable access it gives them. The calendar lets them take note of upcoming occasions that they shouldn't miss.
You can do more using the Printable July Calendar. So, are you ready to mark and organize your tasks? Print the July 2020 Calendar today!
Printable JULY 2020 Blank Calendar
You should take the opportunity to customize your July calendar from our website for free. In july many people go on a trip because
July it is the middle month of the summer
. You can organize your plans on July from our website without a subscription and it is ready to print with just few clicks. If you are going to plan to go on a trip, you should definitely note your plans on a
calendar
because people generally forget everything on vacation and they forget their duties in their daily life. To avoid yourself from the situations like these, do not forget to plan your
monthly calendar
from our website. Also organizations should plan their activities as well because the employees might go on a trip and should note their employees return date to avoid the situations which are dangerous for organization.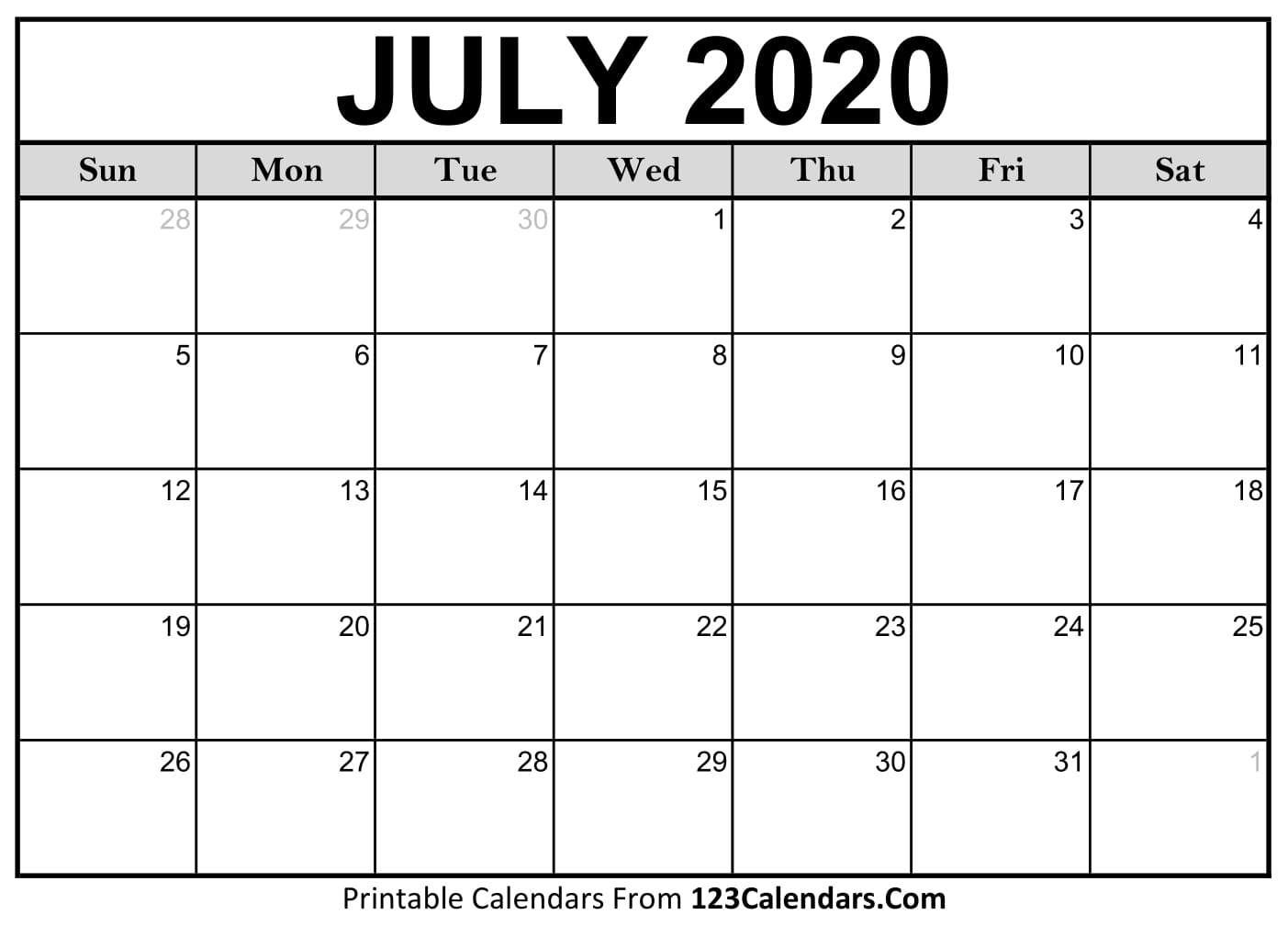 ---
Free 2020 Monthly Calendars
What Days Are Celebrated in JULY?
In world there are many special celebrated days in July but if you are citizen of United States, you should know the July 4 - Independence Day which means the independence of the United States. This day is federal holiday and it is celebrated across the country. But also there are some days that are celebrated as well by the society which are Bastille Day in French and in some part of the United States, National Korean War Veterans Armistice Day to honor veterans from Korean War and Parents' Day which is celebrated by almost every family.
What Holidays Are in JULY?
Independence Day is announced on July 4,1776 and it means the independenty of the United States. Independence day is a announcement and declaration which is about, United States is not a monarch of Britain anymore. After Independence Day, United States are no longer a part of any country and United States is united, independent and free country. Normally, the Continental Congress voted this declare on July 2 but it is not declared until July 4 officially.
Independence Day is the most important day for the United States and it is celebrated by both government and citizens. If you are a citizen of United States, you have to note this day to not forget and you should join the celebrations as well. But if you are from different country but planning to go on a trip to United States, you should write on your calendar this day as important. Because in this day, you might see blocked roads, festival areas and you might find yourself in a traffic jam. But if you are a citizen of USA, you should already know this day anyway.
Is There Any Special Day JULY?
| Date | Holiday | Day | Days to go |
| --- | --- | --- | --- |
| July 4 | Independence Day 2020 | Saturday | 135 |
| July 26 | Parents' Day 2020 | Sunday | 157 |
Parents' Day - July 28
It is the day which is celebrated on fourth Sunday of July and in 2020 it is going to be on July 28. Parents' Day It is not a federal holiday but the society celebrates this day just like Mothers' Day and Fathers' Day. It is formalized in 1994 by President Bill Clinton to understand the importance of our parents. It is also celebrated in other countries but on different dates.
You should write this day on your printable calendar in case of forgetting to remind yourself to visit your parents or call them. If you are going to buy some gifts for them, it is going to be beneficial to write this day on your calendar.
National Koren War Veterans Armistice Day
In this day, American people honor soldiers you fought against Korean Communism for the Korean people. You might see some communities who celebrate this day for Veterans from Korean War. If you are a person who wants to honor these Veterans, you can easily write this day on your calendar to not forget.
Bastille Day
This day is named Bastille Day in English-speaking countries and it is the national day of France just like an Independence Day of United States. As we all know, there are many people in United States from different nations, countries. This day might not celebrate in United States officially but French people who live in United States are definitely going to celebrate this day. If you have a French friends or neighbours, you can notice this day on your calendar to celebrate their national day. Also you better not forget the celebrations in cities by French community and remember there might be a traffic jam cause of this celebrations.
History of Month July
Its original name was Quintilis in the Roman Calendar and it was the fifth month of the year. After January and February added on calendar, July became the seventh month of the year. The named changed from Quintilis to July after birth of Julius Caesar to honor him.
---