Blank February 2020 Calendar
February is the second month of the year and the shortest month as well, both in the Gregorian and the Julian calendar. Compared to the other months with 30 or 31 days, February 2020 has 29 days in common years while it has 29 years in leap years. The quadrennial 29th day of the month is known as the leap year.
The second month's name was after the Roman festival of purification called Februalia. The northern hemisphere considers February the meteorological winter's third month. On the other hand, the southern hemisphere, February is the last month of summer. It is also the last month of the year in the Roman calendar.
With the idea of purification, February is the perfect time to leave all your baggage behind and the real month where you can start over. It's the ideal time to get a fresh breath of air after all the hustle bustle of the holidays. While it is named after the Roman festival of purification, people mostly know February for the month of love as it is the month of the day of Valentine.
If you're busy preparing for Valentine and organize the rest of schedule for the month, this printable custom February calendar is perfect for you. Put your affairs in order and get your activities planned in the cold month of February with an easy to use printable February 2020 calendar. Then, checking the perfect time for an outdoor stroll and some fun is quick and easy.
Printable February 2020 Blank Calendar
February is the last month of winter according to Gregorian Calendar as we all know and it is the shortest month on calendar (28 Days). Every 4 year, February has 29 days and this year is one of these years. You definitely should know this because everything can change in 1 day in our well developed world. Take this great opportunity and customize your blank February calendar on our website for free. You do not have to pay any charge or do not need a subscription to customize your own calendar. You can write your monthly and weekly plans on your calendar to not forget because there are some important days in February. You should also not forget, after February the spring season is coming and the cold weathers are leaving the most part of United States. Many organizations plan their spring season activities on February and you can do that as well if you would like to.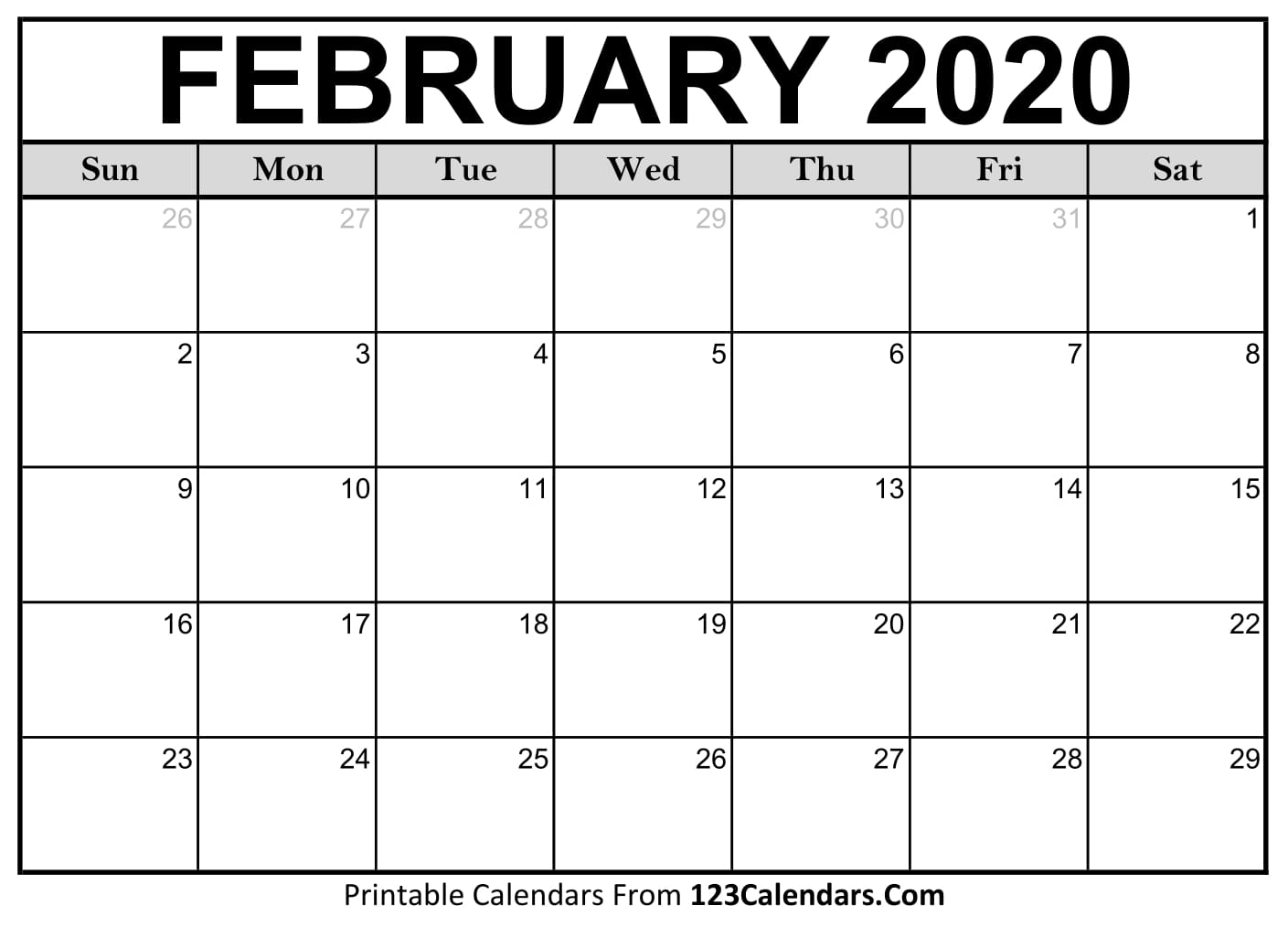 ---
Free 2020 Monthly Calendars
Is There any Federal Holiday in February and What Is It?
Presidents' Day – February 17
Presidents Day is a traditional holiday celebrated on the third Monday of February. In fact, it was originally called President George Washington's birthday, but then it was celebrated for all American presidents. Due to Monday, Presidents' Day, which means a 3-day holiday, is also known as a very popular holiday day for employees. In some states it is celebrated as a special day for a President, but generally as the day of all presidents. You can observe the celebrations by both government and people on streets.
It is very well-known non working holiday in United States if you are a citizen of United States, you better not forget this important day. You can plan some activities with your friends or with your family. If you are an organization, you should also know that this day is going to be a federal holiday and you should prepare your monthly plans according to this information. If you go to the city center, you might face with a traffic jam or crowded groups to celebrate this day. So please do not forget to mark this day on your calendar.
What are the Special Days in February 2020?
| Date | Holiday | Day | Days to go |
| --- | --- | --- | --- |
| February 2 | Groundhog Day 2020 | Sunday | - |
| February 12 | Lincoln's Birthday 2020 | Wednesday | - |
| February 14 | Valentine's Day 2020 | Friday | - |
| February 17 | Presidents Day and Washington's Birthday 2020 | Monday | - |
| February 25 | Mardi Gras Carnival (New Orleans) 2020 | Tuesday | 5 |
National Wear Red Day – February 7
National Wear Red Day is a day to show the awareness about heart diseases and it is celebrated on every first Friday of the February. If you want to support this day, you should definitely mark this day to not forget wear red clothes. But if you do not plan to wear red this day, you should mark this day to not get surprised if you see people or crowded groups who wear red clothes. You also can see some stands on public areas.
Chinese New Year – February 25
Chinese New Year is the first day of the traditional Chinese Calendar. This calendar has its own unique animals every year and in 2020. The animal for Chinese New Year is going to Rat. Since there are so many Chinese People in United States, you can easily see these celebrations in Chinese Neighbourhoods. In these festivals, they use fireworks, some dragon models and traditional clothes of China. You can easily understand these celebrations by observing the decorations that are used by Chinese People. Countries which are using the Gregorian Calendar doesn't celebrate the Chinese New Year but as mentioned before, there are so many Chinese people in United States and it is impossible to not see these celebrations in America. So if you are interested in these celebrations or if you have something else to do in this day, you should not forget these celebrations.
Valentines' Day – February 14
Valentines Day originally a feast day in Western Christian or birthday of the Saint Valentinus. But in almost every country on world, this day is a romantic love day for couples. There is no one who doesn't know the Valentines' Day actually but there are many people who forget everything about this day. This day is not a federal holiday in any country but people celebrate this day annually with their lovers. Some people buy gifts for their lovers, some of them arrange a trip to a romantic place or to another country. If you have a girlfriend/boyfriend/wife/husband, you better not forget about this day. Because you might find yourself in a difficult position if you do and to not forget about this day, you already know what to do. You can easily mark this day on your printable february calendar and that is it. You can print it whenever you want with easiest steps on internet.
History of Month February
February is a month added to the Roman Calendar in 713 BC. The length of the month was originally set at 23 days, but when Julius Caesar rearranged the Roman Calendar, it was set to be 28 days in February and was decided to be 29 days every 4 years.
---