Blank March 2020 Calendar
The third month in the Gregorian and Julian calendar is March. It had 31 days and was named after Mars, the Roman God of War. March has notable months that people take note. An example of these holidays is the Earth Hour that lets people turn off their electric lights for an hour. Also, during this month, the Women's History Month is held in the UK, US and Australia.
Now, you don't have any problem in remembering these holidays. You can download the March 2020 Calendar for free. You can have it in an image or PDF format. People can keep their calendars organized by setting the important dates in your life. You have the chance to choose a horizontal or vertical format.
The printable calendar lets you organize it the way you want it. You can be sure to keep track of the important dates in your life. The March 2020 Calendar is easy to use, so you don't have a problem in using it every day.
Also, users can have colorful sizes and colors of the calendars as well. Come now and download the March 2020 Calendar! For sure, you would love to use it with your family. The calendar provides you with satisfaction so use it well.
Printable March 2020 Blank Calendar
The first month of the spring season is march as we all know and we should organize our plans about this spring. Spring is the most loved season in world by people and the reason is weather obviously. Because after a tough cold winter, nothing can feel better than spring weather. Flowers appear again, leaves of the trees grow again with their lovely green color and ground become hot and soft. When this lovely weather come, people feel energetic themselves and they do some outdoor activities.
If you are one of these person, you definitely should start to plan your activities and to stick with their plan you should write it on calendar. If you are here already, you decided to make a plan and you find the best website on internet to do this. You can easily add holidays, clear the calendar. The other awesome thing that you can do is print. Since our website announced, we always read your feedbacks and found out what do users need. You can print your calendar with 1-2 easy clicks or you can easily save it as image on your device. What do you waiting for? Start organizing your March calendar!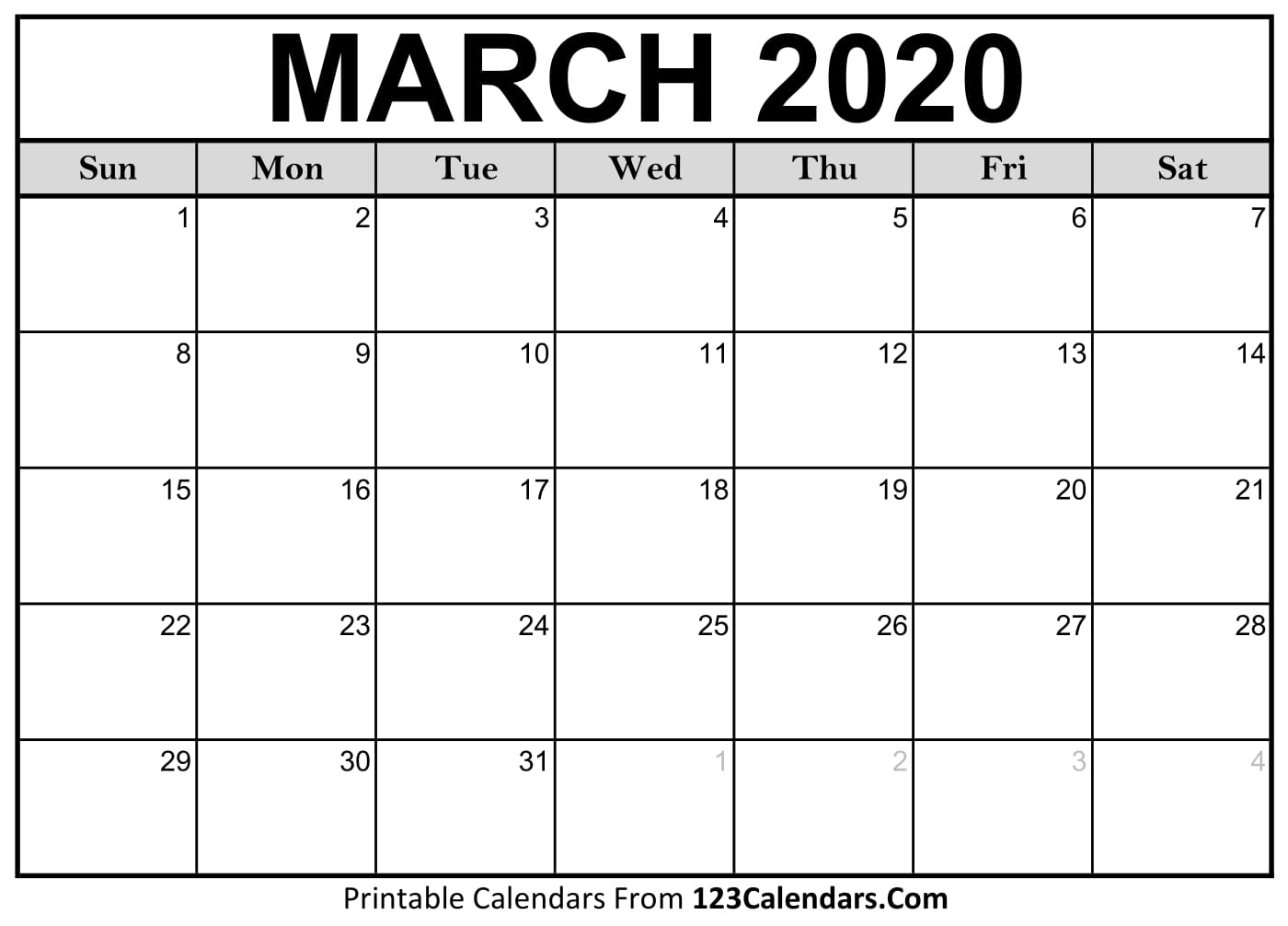 ---
Free 2020 Monthly Calendars
What Are The Special Days in March 2020?
There are not any federal holiday in March but there are many special days which are celebrated or commemorate by people.
| Date | Holiday | Day | Days to go |
| --- | --- | --- | --- |
| March 8 | Daylight Saving (Start) 2020 | Sunday | 17 |
| March 17 | St. Patrick's Day 2020 | Tuesday | 26 |
Employee Appreciation Day – March 6
Employee Appreciation Day is an unofficial holiday for employees who are working in a company. In this day, employers show their appreciation to their employees for their hard work and their effort fort he company or in organization. It is just like a Boss's Day but in reverse. It has a great opportunity for managers in an organization to interact and plan some activities with their employees. Human resources departments care about this day too much in some companies and give a holiday for their employees or plan some activities with their employees. If you are working in a company as an employee or an employer, this day may make your day. It is very special day to interact with employees for managers and all you should do is not forget this day. Just mark this day on your calendar and that is it!
St. Patrick's Day – March 17
St. Patrick is a patron Saint of Ireland and in this day people do cultural and traditional celebrations across the world. Of course you can observe these celebrations in United States as well because there are so many Irish people in United States and it is not a national celebration but a religious and cultural celebration. It is not an official holiday in United States but you can see people on streets with their green clothes and models. In this day everywhere in cities turn their color in green. Celebrations incorporate noticeable showcases of the shading green, religious observances, various processions, and abundant utilization of alcohol.
What you can do is in this day just celebrate it or be aware of this day. Because in this day you may have so much fun with your friends or with people who celebrates this day on streets. But if you are planning to work on this date, you should definitely write this day on your calendar because streets and city center will definitely be crowded. You should know this and plan your activities according to these celebrations.
National Vietnam War Veterans Day – March 29
On this day people show their appreciation for Vietnam War Veterans but it should not be confused with Veterans Day. Barack Obama claimed this day as National Vietnam War Veterans Day on its 50th year anniversary in 2012. Since 2012, every year on this day people celebrate it. If you know someone who is the Vietnam War Veteran, you should not forget to tell your appreciation for them. And to not forget this day, you can easily write it on your calendar.
History of month March
March, named after the Roman god of war Mars, is considered to be the beginning of the spring season. It was also the beginning of the New Year in the past. However, after January and February were added to the calendar, this has changed. Until 1752, Britain used the month of March as the beginning month of the new year.
---