Blank November 2020 Calendar
The month of November is the 11th month of the Gregorian and Julian calendars. This month has 30 days. There are notable holidays in this month such as All Saint's and All Soul's Day. You can look forward to these holidays and other events using the November 2020 Calendar. You can select from different templates that you like.
You can customize the blank calendar depending on the tasks or schedules you want to do. People have a sure way to mark the special events within this month. The calendar is easy to use and gives you easy access to it each day.
You can use it at home or in the office. You can organize your daily tasks in an easy and fun way. So, it would be easy for you to keep track of important dates. Feel free to download it now and experience the great experience it gives your life. The calendar is a sure way for you to plan your schedules of time.
The November 2020 Calendar is perfect for you to add important details about holidays and events. Thus, you come now and download the calendar today! For sure, you would love the benefit it gives your life. You would experience satisfaction in using the calendar!
Printable November 2020 Blank Calendar
Here we come the eleventh month of the year and last month of the fall/autumn season. Cold weathers has come and it is time to start check our monthly calendar. From our website, you can fill this blank calendar for free and without any payment. You don't even have to subscribe for anything.
November is an important month to end our preparations for winter to not got surprised when the winter comes. To be ready for winter, we should prepare ourselves before it came and November is the last month for this opportunity. There are so many important days in November so you should better keep organized your duties and plans. You can easily write your plans or ideas on november printable calendar by using our website and print it with the easiest way. Also please don't forget to add holidays by clicking the Add Holidays button which located above the calendar and painted with yellow color.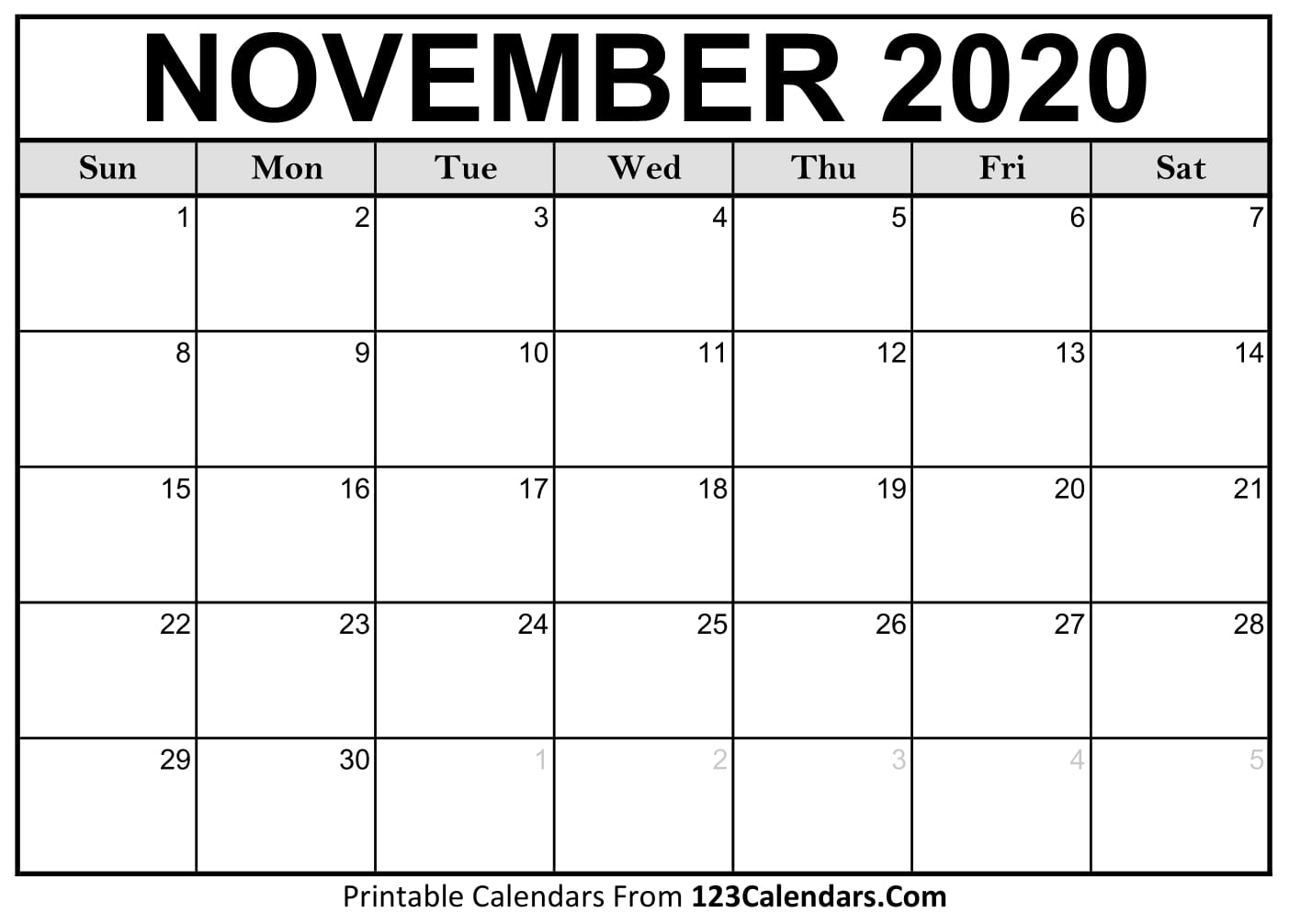 ---
Free 2020 Monthly Calendars
What are the holidays in November 2020?
Veterans Day – November 11
Veterans Day is a day to celebrate for veterans and honor them for what they have done for the country. It is a federal holiday in United States and it is a one of the non-working day in November. Sometimes, Memorial Day (which is in May) and Veterans Day can be conflicted by society but in Memorial Day, people honor people who have died while serving in military service of United States. But in Veterans Day, people honor the veterans who survived from the World War I, World War II and from the other wars all around the world that United States participated.
In this day both government and citizens of United States celebrate and honor veterans. So you might participate these celebrates and events. But in case if you are not going to be a part of these events across the country, you should consider that, you might see some crowded areas and you should organize your plans according to these celebrations. If you know someone who is a veteran, you definitely should honor them by giving a thanks speech or speak with them on a normal daily things. Since it is a federal holiday across country, you might spend some time with your family as well. That is the biggest reason why you should mark this day on your calendar.
Thanksgiving Day – November 28 (Fourth Thursday of November)
Thanksgiving Day is originally comes from harvest season of the year. People celebrate this day by inviting their relatives, neighbours. They cook special meals on this day, drink beverages or wines, talk each other and they gratitude to God and Jesus Christ for everything they have. This tradition or religious day comes from the past and people love to celebrate this day like with these events. In United States, people care about this day very much and they really like to celebrate this day.
What you should do is simple. Just mark this day on your printable calendar. You can do it by yourself or just clicking the "Add Holidays" button on top of the page. It would be a very big problem if you forget this day because for example you are the person who organize the meal, you can not forget to go shopping and buy the items you need. It would be a terrible mistake if you forget. On the other hand, if you are the guest for the Thanksgiving Day, you better not forget this day, organize your plans before that meal. Because it would be very sad if you do no attend the meal that you are invited. All you have to do is write this event on your calendar and print it or save it. That's it!
What are the special days in November 2020?
| Date | Holiday | Day | Days to go |
| --- | --- | --- | --- |
| November 1 | Daylight Saving (End) 2020 | Sunday | 255 |
| November 11 | Veterans' Day 2020 | Wednesday | 265 |
| November 26 | Thanksgiving 2020 | Thursday | 280 |
| November 27 | Black Friday 2020 | Friday | 281 |
| November 30 | Cyber Monday 2020 | Monday | 284 |
Black Friday – November 29
Technology became one of the most important thing in our daily lifes for almost everybody. Sometimes it is affordable but sometimes it is not. Black Friday is a day that you can buy technological things with very cheap prices. After these technological inventions and developments, almost everyone is using a phone or a technological device across the world and Black Friday is a very popular day for both customers and companies. Companies do huge discounts for the items they sell and people would like to buy these items with these discounts. Sometimes it would be hard to get the item that people want but luckily these discounts are not just in markets or places that companies sell their items in them. You can also buy items on internet. There are very important and well-known websites that you can easily buy an item online. All you should do is find an internet connection and buy.
If you are using our website, you have an internet connection obviously. In case if you are a forgetful person, you can easily write this day on your calendar. We think that, you should indeed. Because you probably would not like to forget this day if you are planning to buy something technological or from other industries.
History of month November
As we all know we are using the calendar for very long time. These months are used by Roman Empire as well. On Roman calendar, november was the ninth month of the year but after January and February added, November became the eleventh month of the year. In case if you are a wondering, the work "novem" comes from the Latin Language and this month got its name from that.
---