Blank September 2020 Calendar
September is considered the 9th month in the Julian and Gregorian calendars. It's also the first month of the autumn season. Constitution Week s also celebrated during September. There are other holidays you can take note or mark during this month. Thus, it's best to download the September 2020 Calendar. People would be grateful to use the calendar.
You can organize the calendar by marking your important tasks ahead of time. People have an assurance to remember the memorable days of their life. How? They can use the September calendar every day. There's no need to feel the hassle of organizing a task. The September calendar can make it easy for you. You can have a chance to feel comfortable in managing your schedule.
You can download the PDF or the image format of the calendar. It depends on your choice. You can be sure that planning your schedule would be easy. Homeowners and office people can use the calendar for checking the upcoming occasions in their lives. For sure, you would enjoy using it on a daily basis. So, are you ready to have the printable calendar? Download it now and experience a comfortable life it would give you.
The September 2020 calendar fits your standards and needs. Come and download it now!
Printable September 2020 Blank Calendar
September is the first month of the fall and it is the month where people return from their summer vacations. In september, retired people go on vacations oftenly because it is cheaper and more comfortable than the summer. The reason behind that is, the holiday areas are very crowded in summer and retired people wouldn't like the crowded areas and they want to rest with their own. But if you are planning to go on a trip on September, you can easily find cheaper holiday promotions than summer prices.
After you return from your summer vacation, it is time to organize your daily, weekly and monthly plans. You can do this organization job from our websites for free and without any subscription or register. It is super easy to print as well with few clicks. It is very important to organize your plans with a calendar after summer vacation because in summer you might have forgot your duties or can not remember exactly.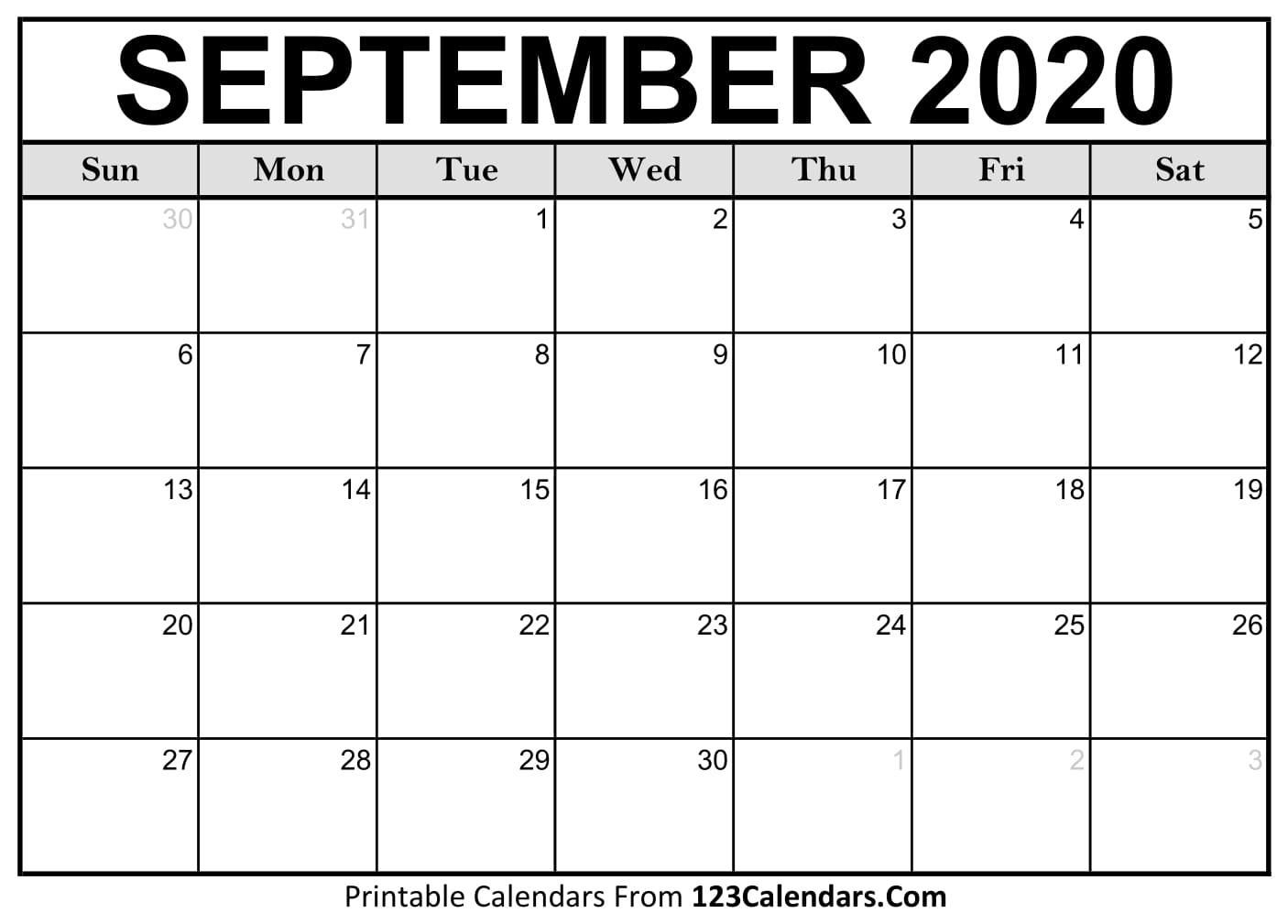 ---
Free 2020 Monthly Calendars
What are the holidays in September 2020?
Labor Day – September 2
It is very important date for citizens of United States because Labor Day also known as the end of the summer vacations. People plan their holidays two weeks earlier before Labor Day and they combine these day together to get one more holiday. You definitely should note this day on your calendar if you are working in an organization or if you have something to do on this day because most of the public areas are going to be closed.
Labor Day in the United States of America is the official holiday celebrated on the first Monday of September. It honors the American workers' movement and its contributions to the country's power, welfare and laws. Monday is the long weekend of Labor Day weekend known as. It is considered a federal holiday. Since the late 19th century, as trade unions and workers' movements grew, trade unionists proposed to leave one day to celebrate labor. Oregon became the first state to have an official public holiday. When it became an official federal holiday in 1894, thirty states in the United States officially celebrated Labor Day. Canadian Labor Day is also celebrated on the first Monday of September.
However, more than 80 countries in world celebrate this day on May 1 which also known as European Labor Day. If you are working internationally, you should not forget that because in this day, almost every European country has holiday.
What are the special days in September 2020?
| Date | Holiday | Day | Days to go |
| --- | --- | --- | --- |
| September 7 | Labor Day 2020 | Monday | 200 |
| September 11 | Patriot Day or September 11th 2020 | Friday | 204 |
| September 13 | Grandparents' Day 2020 | Sunday | 206 |
| September 16 | Stepfamily Day 2020 | Wednesday | 209 |
| September 17 | Citizenship Day 2020 | Thursday | 210 |
| September 25 | Native American Day 2020 | Friday | 218 |
Patriot Day – September 11
Patriot Day occurs on September 11 every year since the terrorist attack on twin towers. It is a day to remember and honor people who passed away on this day. It is a very sad day and the history will not ever forget this attack to United States. In this day people visit cemeteries and graveyards to reminisce their memories about this day and honor the victims of this terrorist attack.
You should note this day on your calendar to not forget. You can observe some commemorate ceremonies across the country and moments of silence to honor people. You can see some protests against terrorism on streets as well. You can also note this day on your september 2020 printable calendar by clicking the "Add Holidays" tab on the page.
National Grandparents' Day – September 8
This day is to honor and give our thankful speeches to our grandparents' as the name suggests. In case of forgetting this day, you better note this day on your calendar. You can easily remind yourself this day to just looking at your calendar. You can plan a visit to your grandparents or give them some gifts as well.
Constitution Day and Citizenship Day – September 17
Consistently on September 17, the Americans commend the Constitution Day and the Day of Citizenship. It was otherwise called the Constitutional Week between September 17-23. Amid this time, USCIS urges Americans to consider the rights and obligations of citizenship and being a US native.
On our website, you can easily customize your calendar and write it on your calendar. It would be better for you to not forget this day. Because in schools or in organizations, this day might be mentioned.
History of month September
In Roman history, September was the seventh month of the year in the original Roman calendar. The name of the September comes from here which means seventh. After years, the January and February were added ty the Roman Empire to their calendar and September became the ninth month of the year.
At the point when the British transformed from the Julian timetable to the Gregorian date-book in 1752, they expected to modify some days to get the seasons lined up with the months. They took 11 days from the period of September bouncing straightforwardly from September third to the fourteenth. Presently maybe the days between September 3 and 13 amid 1752 never occurred in British history.
---