2022 Calendar Templates
Why Use a Printable 2022 Calendar?
While most people have moved on to the electronic calendar, there are many reasons to use a printable 2022 calendar for next year. If you're tired of missing appointments or not getting your notifications, it might be time to print out a calendar and use it instead.
They generally offer the same information, such as federal holidays, but they usually have large boxes where you can write things down.
Most people find that their time-management skills are lacking. Things seem to move at a faster pace than ever before, and it's sometimes hard to remember to get into your phone and view your calendar. Others feel that it might be easier if they wrote it down to instill the event or important date. There's something almost therapeutic when writing something down with an ink pen on paper.
Here are just a few of the reasons you may want to use a printable 2022 calendar: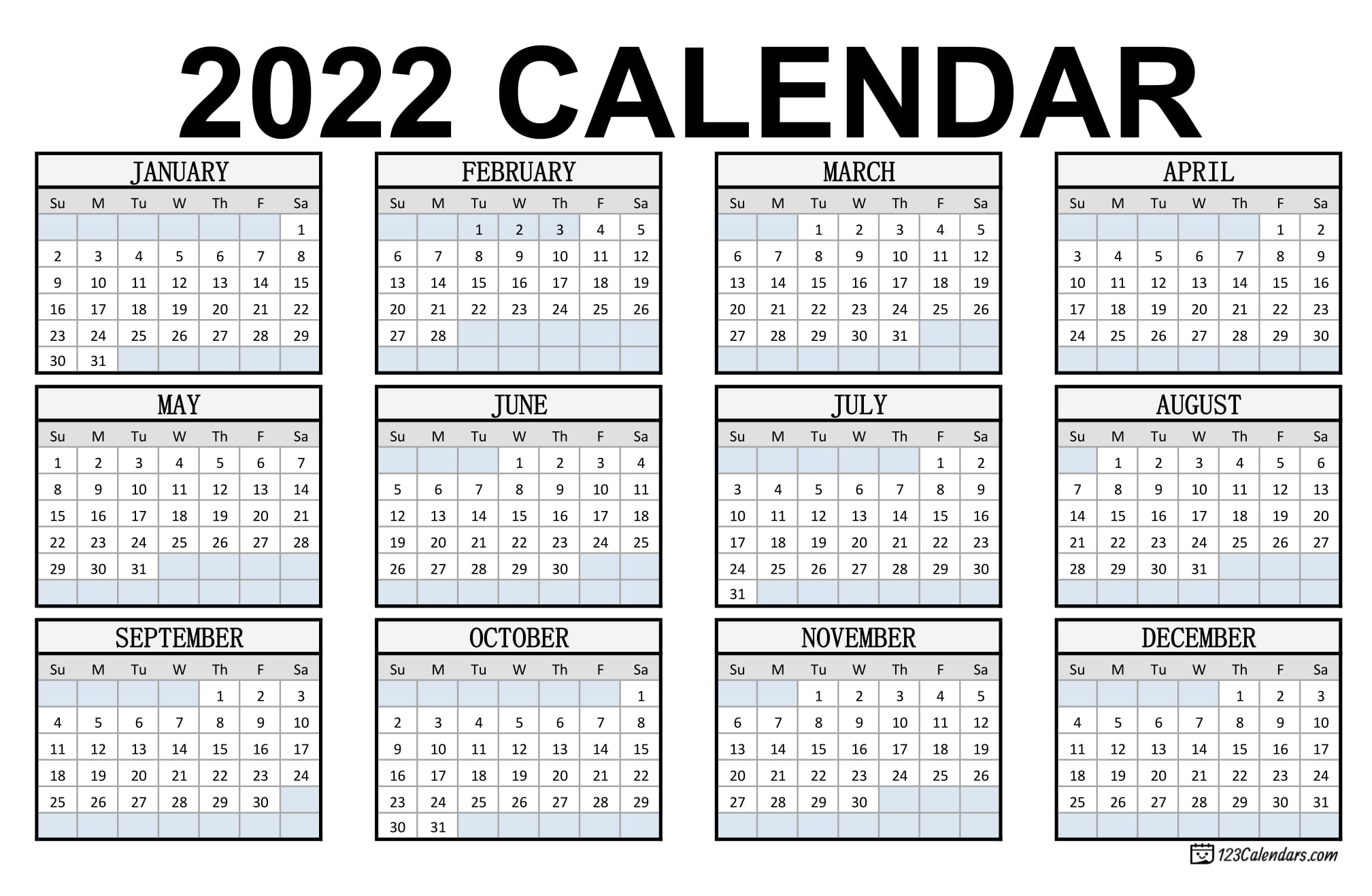 ---
Remember People's Birthdays
Everyone uses social media (or so it seems). However, there's something about writing your friend's and family's birthdays on a calendar. Most of the time, social media accounts forget to tell you when it's a friend's birthday, and they don't usually offer anniversary reminders.
Even if you decide to wish them happiness online, you can have a printed calendar to tell you when to do it. That way, you aren't at the mercy of your social media account to remember for you.
If you get into the habit of looking at your calendar each day, you're going to see immediately when to wish someone a happy anniversary or birthday. In fact, you can stop what you're doing right then, get on social media, and tell them you've thought of them. Better yet, check the calendar for upcoming events and send out a personalized card in the mail. That is sure to get their attention, and they are going to be happy that you took the extra time and effort to wish them well on their special day.
Plan Events
A 2022 calendar is the best way to plan events. Whether you want to figure out when your bills are due or want to go out with the girls, you can write everything down in your calendar. If it's large enough, you can put it on the wall in front of you so that you can see it and be reminded.
Many people have busy lives, and it's easy to forget drinks on Friday or a lunch date with your best friend. You don't want to be the one to ruin the festivities, and a printable 2022 calendar is the best way to go.
On top of that, you can look forward to your special plans. Each day, you're going to see that written bit in the block. You can count down the days to fun, and you can get excited as the special event gets closer.
Remember Appointments
We all have those moments where we forget to stop off at the dentist or drop off paperwork at a business. Life gets hectic, but sometimes, missing appointments can cost you more money or make it harder to get things done.
If you write down the appointment (when, where, and time) in your 2022 calendar, there's no way you're going to miss it. While you may still grudge having to go, it's better when you don't procrastinate and take care of yourself and everything else!
Plan Your Day
Most people don't realize it, but a 2022 calendar can be used to plan your day. You may have to write small or adjust the box sizes before you print, but you can write down all of your errands to do that day. This is going to help you be more productive and stay on top of things. Many times, you can get through the day with some energy left over for fun.
Why Print a Calendar and Not Buy One?
You could go to almost any store and find a calendar to buy. However, if you want to start planning for the next year, a printable 2022 calendar is the way to go. Print it out now, get it all set up, and you can start writing things down and preparing for next year. Life is going to be much easier when you've got a full plan!
Detailed info for calendar, please refer to Wikipedia.
USA Federal and State Holidays in 2022
Below is a list of some of the most common holidays for 2022. Including the weekday they land on and how many days until the day.
| Date | Day | Holiday |
| --- | --- | --- |
| January 1, 2022 | Saturday | New Year's Day |
| January 17, 2022 | Monday | Martin Luther King Day |
| February 21, 2022 | Monday | Presidents' Day |
| May 30, 2022 | Monday | Memorial Day |
| July 4, 2022 | Monday | Independence Day |
| September 5, 2022 | Monday | Labor Day |
| October 10, 2022 | Monday | Columbus Day |
| November 11, 2022 | Friday | Veterans Day |
| November 24, 2022 | Thursday | Thanksgiving Day |
| December 25, 2022 | Sunday | Christmas Day |